Hot on the heels of the Sub-Zero bust comes Scorpion. This is another classic MKII era design that that captures the look and feel of the damned ninja warrior perfectly. Part of DST's Legends in 3D line this Scorpion bust is 1/2 scale which gives it plenty of room for detail.
This killer bust of Scorpion is the next release in the Legends in 3D line of half-scale busts! Measuring approximately 10 inches tall, and inspired by his earliest video game appearances, the bust features detailed sculpting and paint applications, and is limited to only 1000 pieces. Packaged with a certificate of authenticity in a hand-numbered, full-color box. Designed by Joe Allard, sculpted by Salvador Gomes.
Is this another flawless victory for DST? Take a look at the bust and decide for yourself.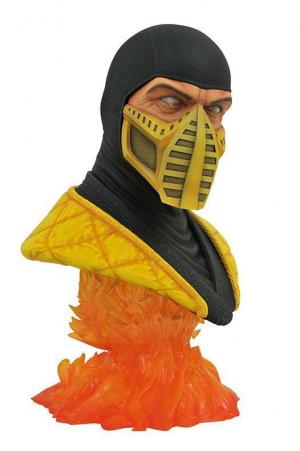 Slated for a fall release the bust is priced at $175.00 which is acceptable for the size and detail it has to offer. You can learn more on the DST page as well as browse their other Mortal Kombat statues.