Diamond Select Toys known for producing high quality action figures for popular franchises like John Wick have produced other less known lines. One of those lines is the focus for today's entry into the Toy Keeper's Lair, their 8" Marvel Retro Daredevil dolls.
When DST produces a figure a lot of work and planning goes into it, when they take a stab at something they want to hit their mark and this addition to the Daredevil fandom is no exception especially if you are into retro action figures and can't find (or afford) the 70s originals. (Collector's note: Mego never produced a DD doll.) Much like the noteworthy work that Figure Toys Co. is producing, this line captures the retro 8" standard fabulously which was first popularized by Mego in the 70s.
Mego Corporation became known for this line once they started to produce licensed figures for film, television and popular culture. Now they are a piece of toy collector history and a genre noted for its unique vintage aesthetic.
The Marevel Retro Daredevil comes with his iconic red or original yellow costume as well as in a Matt Murdock variant.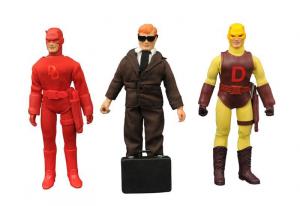 Diamond Select Toys' Description:
Finally, the devil has come to the Marvel Retro line!
Never released in the classic Mego toy line of yesteryear, streetwise superhero Daredevil is the latest Marvel character to get the Retro action figure treatment from DST! This gift set features one classically-styled red-costume Daredevil figure, in a vintage-style box, plus two additional heads and outfits: his original yellow costume and his alter ego, blind lawyer Matt Murdock! With interchangeable heads, hands, costumes and accessories, you can display your Daredevil however you want! Packaged in a full-color gift tray with a booklet about Daredevil, retro-style figures, and the creation process! Designed and sculpted by EMCE Toys!