Figures Toy Company has been producing a lot of different Joker figures, but what makes this pair jump out is the added level of detail they have received. Both Gold Card figures, they are exclusively sold be Excelsior Toys. That means if you are looking for them elsewhere you will be disappointed.
DC Comics Retro Outfit Joker Action Figure
This classic 8" Joker is pulled right out of the pages of some of Batman's greatest adventures. Sporting his Tux, the figure has a nicely tailored costume which plays on the characters style and sense of humor.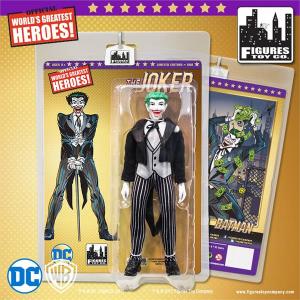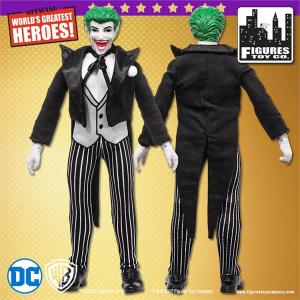 Retro Harley Quinn Action Figure
Harley Quinn fan? This 8-inch Golden Card figure has striking out fit. The choice in material is different than many of the FTC figures you'll find in their assortment, yet it is still true to the Bruce Timm and Paul Dinni design.