Super Friends Darkseid 8" Retro Figure (FTC)
Retro action figures are definitely part of collecting. Not everyone enjoys this aspect or actively follows it, but for some the desire to reclaim a portion of their childhood is a strong indicator on whether or not figure X is desirable. Of course we can't all go down that path, there is a finite number of toys still in existence (and most of these are in less than stellar condition) but we are in luck. There has been a growing trend among the toy market to produce modern figures in retro styles. Super 7, Funko, NECA, and others have given us many of the figures we dreamed about as children or similarly styled characters from modern franchises. Yet, that still leaves a lot of room for expression and one company has worked actively to fill that void.
When I learned of Figure Toy Co. I was intrigued by the large assortment of figures they have to offer. The figures are true to the 8" doll style of figures popularized by Mego, yet they offer figures the former manufacturer never did or could. Much like the Retro Daredevil released from Diamond the lines produced by FTC are true to their genres and the look that has since become iconic.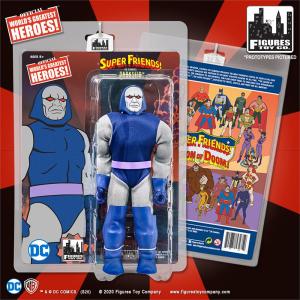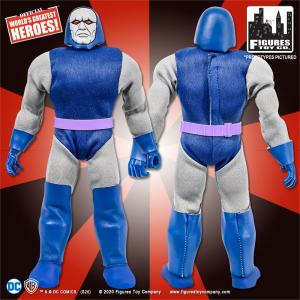 I was first introduced to them through their Super Friends line based on the long running DC cartoon series (of which I was a devoted fan of as a child). When I saw the Super Friends Darkseid figure I knew that I had to report on this stellar find.
Darkseid, at 8" tall is massive, but that is not the only thing that makes this entry so fun. Everything from the head sculpt to the sewn costume fits perfectly with what you would expect from a figure of this type.