Hot Toys never ceases to amaze us. Just look at this beautiful Spider-Man 2099 figure they recently unveiled for Toy Fair.
For fans of Marvel's 2099 timeline it should come as no surprise that this is one of the most iconic characters to appear in it. Create by Peter David Spider-Man 2099 was a popular comic series for Marvel in 1992 and in recent years has made a comeback unlike the other characters to get a 2099 re-envisioning. There is no wonder why the character has survided so long, out of all of the characters created for the 2099 universe it was our favorite webslinger, played by Miguel O'Hare this time, was the most grounded and tangible. Ghost Rider, Hulk, and Punisher all seemed a bit too much like parody like, better suited for the surreal universe that 2000 A.D. represents than Marvel Comics. And before we continue I don't even want to get into the mess that the 2099 X-Men series choose to explore.
If you don't know what a 1992 comic book character looked like you can see it right here. Spider-Man's costume is painstakingly recreated in such high detail by the team at Hot Toys in such a way that almost makes you believe that this is a still from a film rather than an action figure. Honestly, I feel that it is a true work of genius whenever they release a new figure.
Many companies reach a certain level and either fail to maintain it or choose to redefine themselves all together once they have reached the top. HT doesn't do that. They have made a name for themselves and they continue to honor that name whenever a new figure rolls out the door. Every time I see one I say to myself; "they can't get better than this." But somehow they can and they do. With as large of a catalog as Hot Toys has it is easy to see that quality and quantity can coexist in harmony.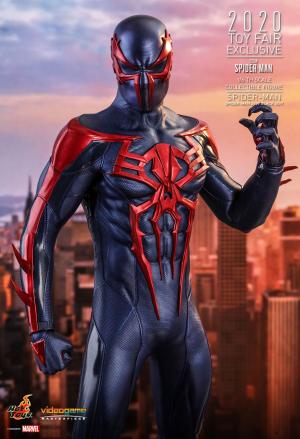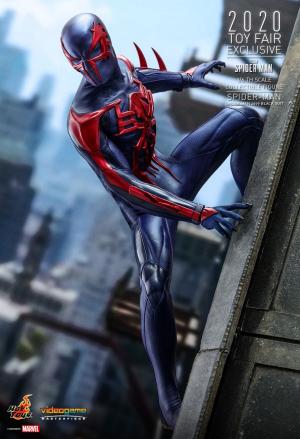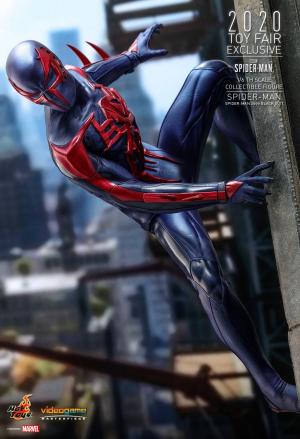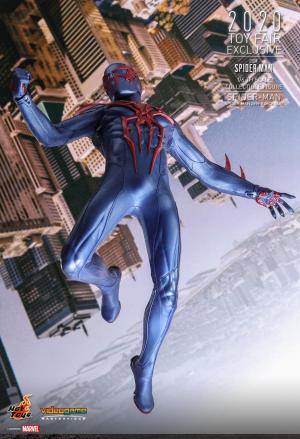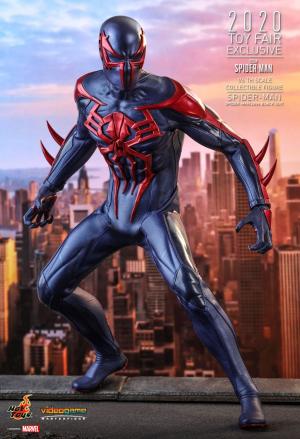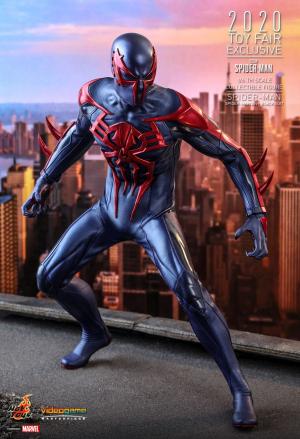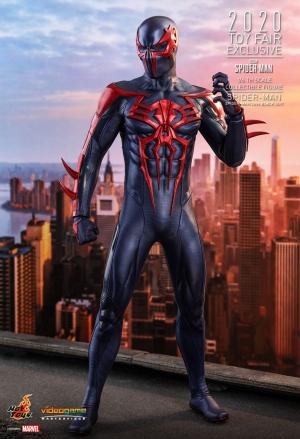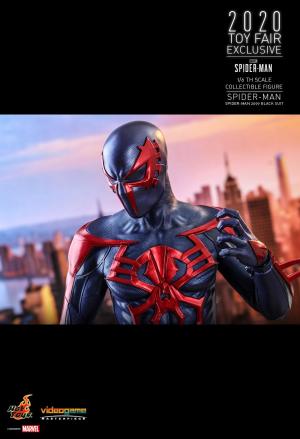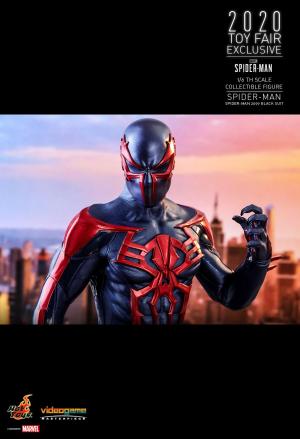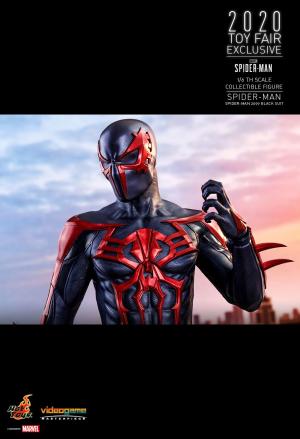 This figure is not just highly detailed it comes with a large assortment of accessories that make it a value for any Spider-Man fan.
But first, when you look at this figure you will see that it has something other toys in HT's assortment don't have. A new body. While still sporting the traditional 30 points of articulation is has been redesigned from the ground up to work with the characters unique flexibility. This gives way to a large assortmen of poses that were not possible before.
Miguel O'Hare also comes complete with a wide array of hands as you would expect for a Spider-Man figure. They cover both relaxed and action poses like:
One pair of relax hands
One pair of open hands
One pair of web shooting hands
One pair of clenching hands
One pair of gesture hands
One web holding left hand
One right fist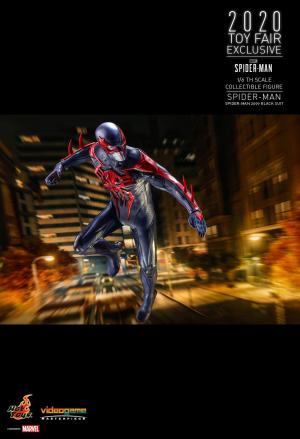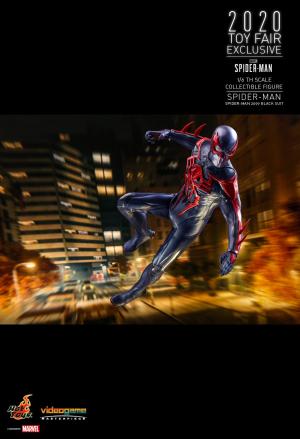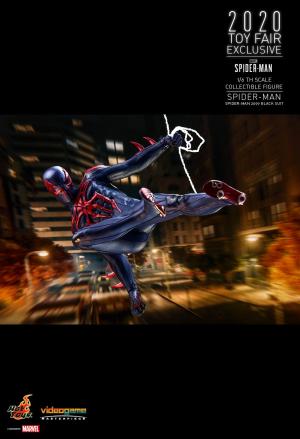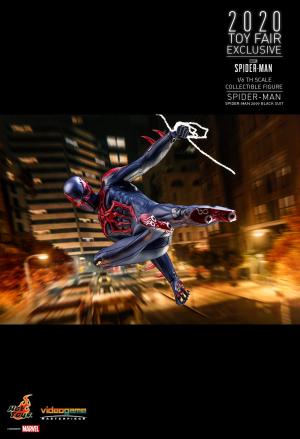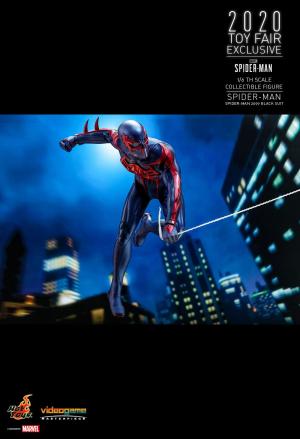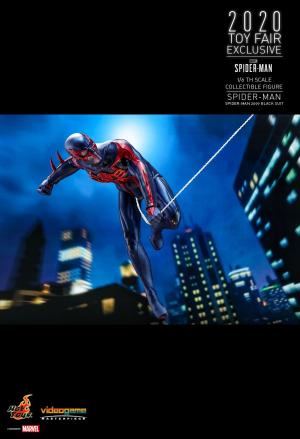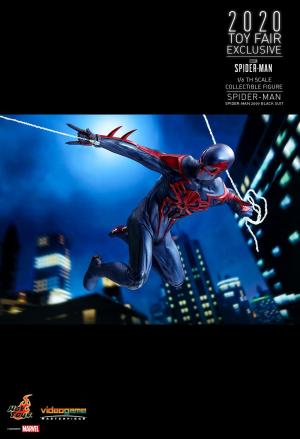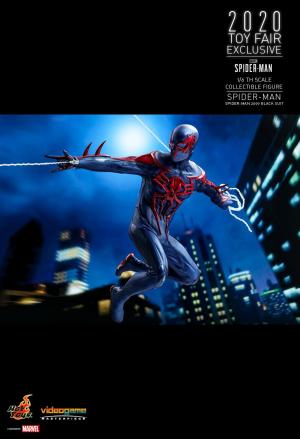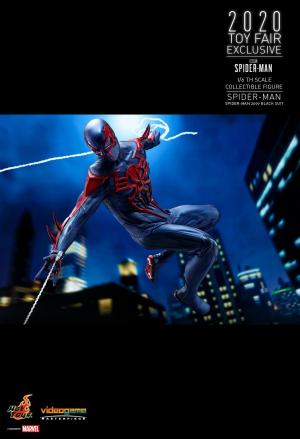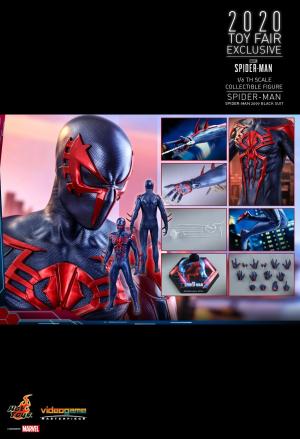 Since the figure was developed for the Spider-Man game you can expect that to be the main direction the marketing material took. That is why the base sports a specially designed Marvel's Spider-Man game logo, character name and graphic card. All of which do not detract from the early 90s design.
As for action accessories you will also get:
One (1) pair of web shooters
Six (6) strings of spider web in different shapes and lengths
One (1) open spider web effect accessory
All of which allow you to create beautiful and dynamic scenes as the studio photo shoot pictures clearly show. It is no wonder that film maker Patrick Boivin has used their figures in the production of stop-motion animation.
© 2020 MARVEL
© 2020 Hot Toys Limited. All Rights Reserved.